All-On-4 Dental Implants — Loveland, OH
Helping You Achieve a Permanent Smile
You don't have to replace each lost tooth individually. Instead, you can get a full denture supported by four strategically placed dental implants. This approach eliminates several inconveniences of traditional dentures, such as unexpected slippage and difficulty speaking. At Gerome & Patrice Family Dentistry, we can have your new teeth placed on the same day! To learn more about All-on-4, continue reading or give our office a call today to schedule an appointment.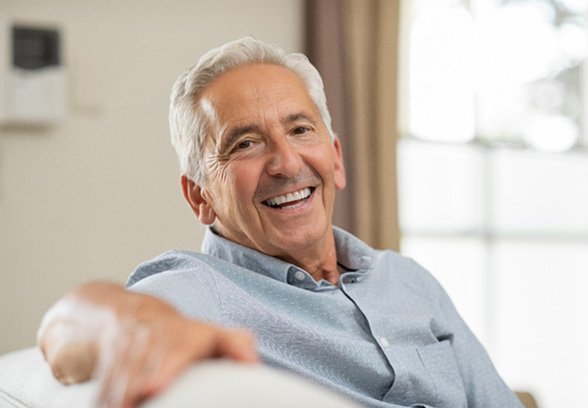 How Do All-On-4 Dental Implants Work?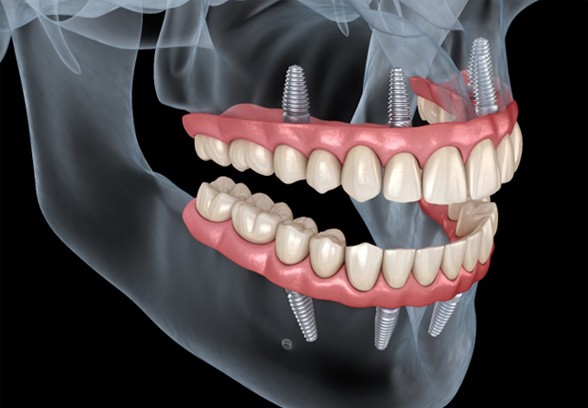 Dental implants are an incredibly popular method of tooth replacement – and it's easy to see why! Because of their unique placement, they're able to replace the entire structure of missing teeth from the root up to the crown. However, they must have sufficient jawbone density to ensure successful results.
If you don't have adequate bone density, you may wonder if there's another solution. Well, there is! All-on-4 dental implants can be used to provide maximum support for your newly rebuilt smile. Four dental implants are strategically placed into the thickest areas of your jawbone, minimizing the need for bone grafting. Once your implants are in place, you will be equipped with prosthetics that mimic the tooth root and stimulate the jawbone. Metal abutments are attached to help secure a finalized denture that doesn't slip or fall out of place.
Am I A Candidate for All-On-4 Dental Implants?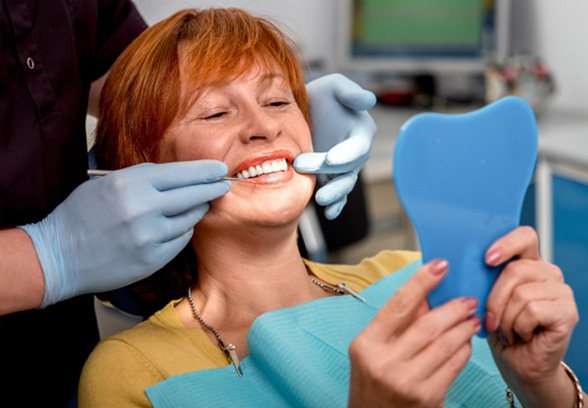 You'll be happy to know that most adults who suffer from tooth loss are likely eligible candidates for All-on-4. Even if you're told that you don't qualify for traditional dental implants because of inadequate jawbone density, these four dental implants can be placed in such a way that you can successfully move forward with treatment with less bone density. Those who would need bone grafting before getting implant dentures may not need one for All-on-4.
Of course, you must still be in good oral health and commit to maintaining proper hygiene throughout your treatment. In addition, you need to avoid poor lifestyle habits to prevent implant failure. These include smoking, poor oral hygiene, cavities, and gum disease.
Benefits of All-On-4 Dental Implants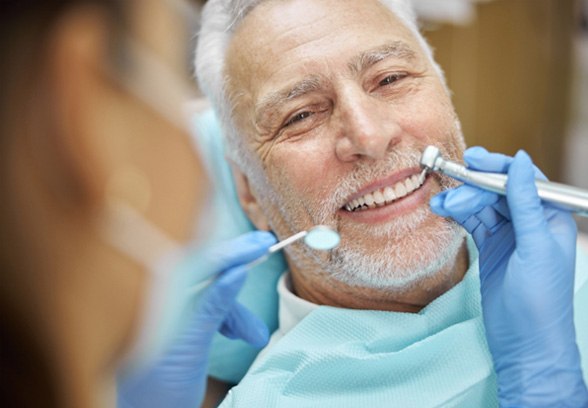 Are you thinking about getting All-on-4 dental implants in Loveland? It's easy to see why it's such a popular option! You can look forward to many incredible benefits, such as:
Easier mainteneance since your new prosthetic will be permanent
Increased jawbone preservation because implants will stimulate the bone and keep it from deteriorating over time
Enjoy greater bite force and chewing power, meaning you can eat all your favorite foods with ease
Completely natural and long-lasting results
All-On-4 vs. Traditional Dental Implants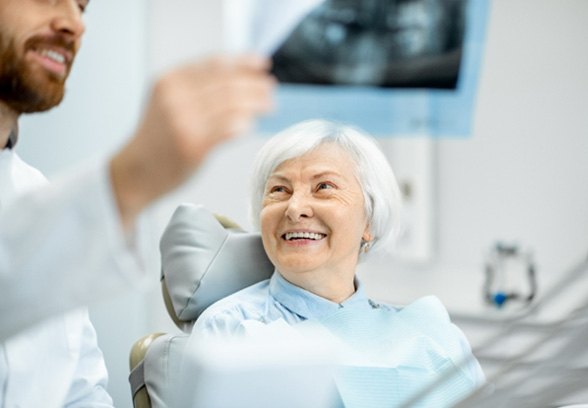 While it may not seem like there is a difference between All-on-4 and traditional dental implants, there are actually many distinctions to keep in mind. Some of those include:
Traditional implant dentures can require up to eight posts, meaning more surgery and higher costs. Meanwhile, you only need four dental implants with All-on-4.
All-on-4 typically doesn't require bone grafting. You don't have to worry about waiting several months for the graft to take before receiving dental implants!
You may be able to receive a customized denture the same day as your All-on-4 surgery. allowing you to enjoy your new smile right away.