Dentures & Partials – Loveland, OH
Affordable Solutions to Severe Tooth Loss
At Gerome & Patrice Family Dentistry, we want our patients to have access to various treatments to ensure personalized service. With dentures and partials, we can help improve your confidence and oral function by replacing missing teeth. When you lose teeth, your self-esteem fades, and you can't chew, speak, or laugh like you used to. Dentures and partials in Loveland, OH offer a solution to this problem.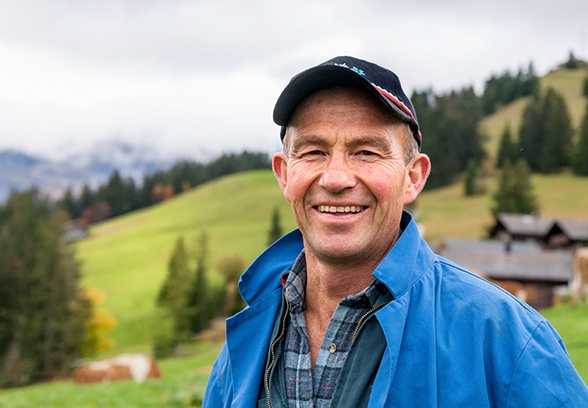 Why Choose Gerome & Patrice Family Dentistry for Dentures & Partials?
Partial Dentures Ideal for Several Missing Teeth
Full Dentures Help You Replace an Entire Arch
Combine Them with Dental Implants for a Longer-Lasting Solution
What are the Benefits of Dentures?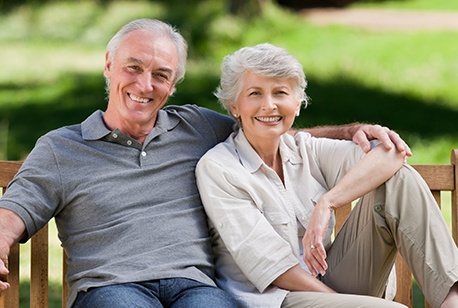 Both full and partial dentures are removable dental prosthetics that will be custom-made just for you. They have evolved over time to look very natural and fit very comfortably. Today's dentures and partials are a reliable and attractive option for tooth replacement. They can also be very affordable.
Can Dentures Work with Dental Implants?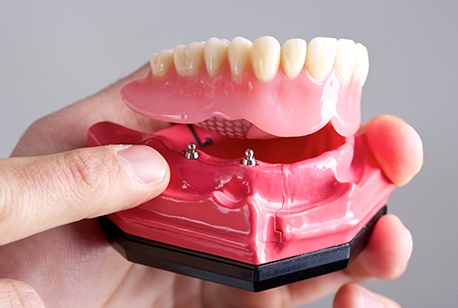 Dentures can also be crafted to fit onto dental implants. While some might worry that traditional dentures would slip or feel loose, implant-supported dentures snap into place onto specially designed implants. This gives you a little extra confidence when wearing your dental prosthetic. If you're interested in an implant-retained denture, we can discuss this option with you as well.
Can Dentures be Customized to My Preference?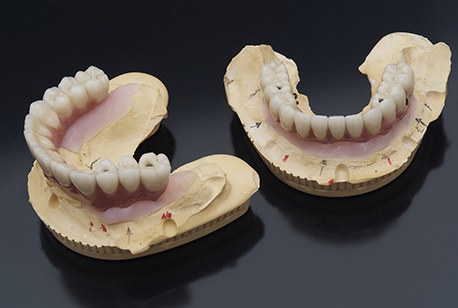 Partial dentures can replace one or a few missing teeth when there are still some remaining teeth. Sometimes these removable dental prosthetics involve a metal frame that can clasp onto your natural teeth for support. We also have metal-free options that can be used in certain situations.
Dentures FAQs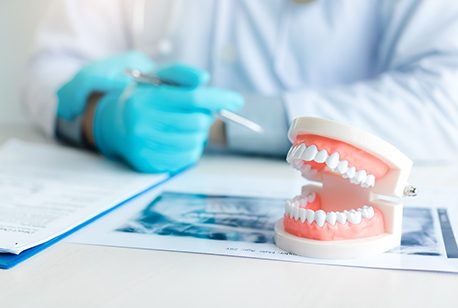 Reading through the above information can provide you with valuable insight into everything from the benefits to the versatility of dentures in Loveland. If you are ready to replace your missing teeth, don't hesitate to give us a call so we can schedule your initial consultation. However, if you'd like to do more research before getting in touch, then keep reading for the answers to a few of the most frequently asked questions!
What Can't You Eat with Dentures?
Dentures are incredibly durable, but they aren't indestructible. To prevent chips, cracks, and other damage, you'll be expected to avoid nuts, popcorn, apples, carrot sticks, and other hard foods. Sticky products, like peanut butter and gummy candies, are also off-limits since they can pull on your dentures, making it difficult to chew. Lastly, foods that are especially chewy, like tough meat, should be avoided since they place immense pressure on your dentures.
Can I Sleep with My Dentures?
In short, the answer is yes. However, it's best to take them out while you sleep for a few reasons. To start, dentures restrict blood flow to your gums, resulting in unpleasant consequences like soft tissue irritation. Taking them out at night gives the soft tissue in your mouth a rest. Second, placing your dentures in a cleaning solution as you sleep will keep them bacteria-free and ensure they are clean and ready for use by morning!
Will It Hurt to Get Dentures?
Since many patients are hesitant to get dental work done because they are worried about the discomfort, it's not surprising this is one of the most frequently asked questions. Fortunately, if this is something you're worried about, you'll be happy to know that our dentists in Loveland go above and beyond to make the entire process as pain-free as possible. If you need to have teeth extracted, a numbing agent will be used before the procedure and you'll be given prescribed pain medication afterward. Once you've received your dentures, you may experience some minor irritation as your mouth adjusts to the new appliance. Fortunately, you can use over-the-counter pain medication, stick to soft foods, and apply a cold compress to the area to minimize soreness.
Is It Hard to Talk with Dentures?
If you've never had dentures before, then you may experience a learning curve. Remember: practice makes perfect. Try reading aloud and practicing the more difficult words (like "sixty") repeatedly to speed up the process. To prevent your dentures from shifting out of place, try biting down and swallowing before you begin to talk. Have patience and take it slow at first. Before you know it, you'll be talking clearly and quickly again!
Contact Our Dental Office Today to Learn More!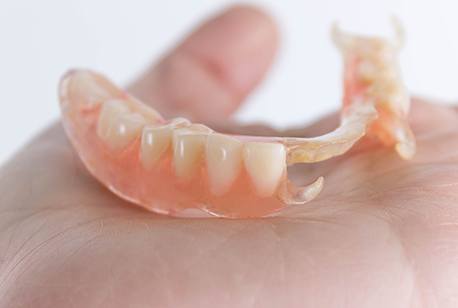 If you would like to learn more about dentures and partials, contact our dental office for an appointment with Dr. Gerome or Dr. Patrice. Through our personalized dental care, we'll help you find the tooth replacement option that works best for you.