Dental Crowns – Loveland, OH
Helping You Maintain Healthy Teeth for Life
When it comes to restorative dentistry, there are few options as versatile as dental crowns. Not only do they effectively restore teeth to the fullest, but they also help you replace missing teeth when integrated with dental bridges or dentures. Instead of extracting teeth when they become damaged, dental crowns in Loveland, OH allow us to help you keep your natural tooth for as long as possible, which is an outcome we always want to strive for. To receive your next dental crown, give our dental office a call today!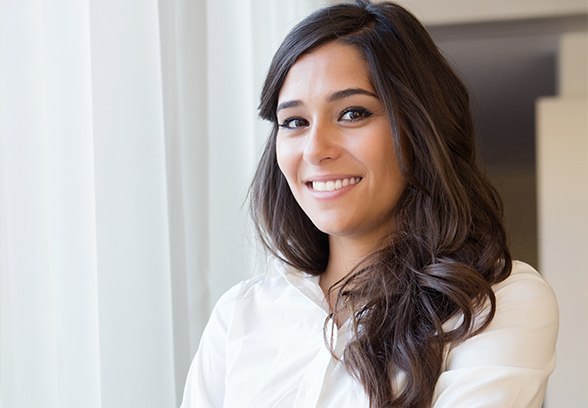 Why Choose Gerome & Patrice Family Dentistry for Dental Crowns?
Fully Customized to Fit Over Damaged Teeth Comfortably
Made with Lifelike Materials to Ensure Proper Esthetics
Designed to Withstand the Test of Time
When are Dental Crowns Placed?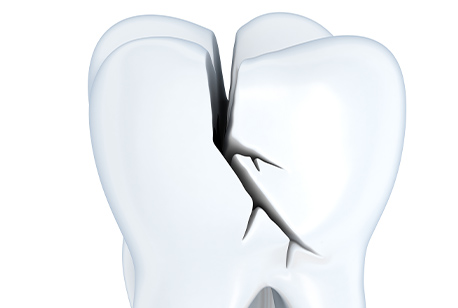 Dental crowns are used when a tooth is heavily damaged. We believe in conserving your natural tooth whenever possible, so if we can strengthen a damaged tooth with a crown, we will. Porcelain crowns will be shaped to look like a natural tooth and placed over teeth that have been weakened by decay, disease, or injury.
How We Create Your Dental Crown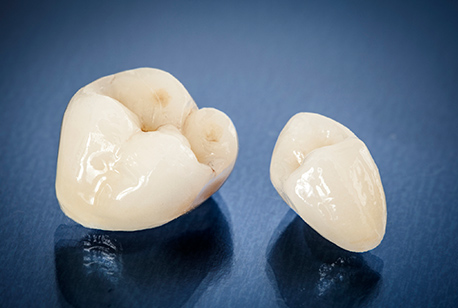 We work with well-trusted dental labs to ensure that you have access to beautiful and well-made crowns and bridges. Once the crown or bridge has been custom crafted for you at the lab, we'll bond it into place and make any necessary adjustments. We want to make sure you get a satisfying fit before we consider the treatment complete.
For quality crown and bridge treatment, contact Gerome Family Dentistry. We keep up with the latest in dental care to make sure that you get exactly what you're looking for when you visit us.
Dental Crown FAQs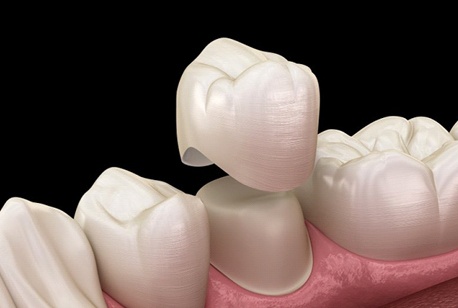 Getting a dental crown is a process that typically takes two appointments over the course of a few weeks. During or even before that time, you might have a few questions about dental crowns. For that reason, we have taken the liberty of answering some of the questions about crowns that we get asked the most frequently here at Gerome and Patrice Family Dentistry.
How Long Do Dental Crowns Last?
Depending on how well you take care of your smile, a dental crown has the potential to last for up to 15 years. In general, maintaining your crown is similar to caring for the rest of your natural teeth; remember to brush and floss daily and attend checkups and cleanings with us at least twice a year.
What's the Difference Between a Temporary Crown and a Permanent Crown?
A temporary crown is used to protect your prepared tooth until the permanent crown arrives at our office from the dental lab. This process can take several weeks, which is why a temporary is necessary. Temporary crowns are typically made from stainless steel or acrylic and are generally less durable than their permanent counterparts. As a result, you'll want to avoid chewing anything particularly hard or sticky with your temporary to avoid breaking or dislodging it.
Does Getting a Crown Hurt?
Before your crown can be placed, your tooth must be modified slightly. However, that area of your mouth will be numbed with local anesthetic prior to beginning treatment. While you may experience some minor soreness for a few days following your procedure, you should feel little to no discomfort during the crown placement itself. Any post-placement pain should be managed by taking an over-the-counter pain reliever like ibuprofen or acetaminophen.
Can I Still Get Cavities When I Have a Crown?
Even though a crown covers the entire visible portion of your tooth, that tooth can still be subject to decay. Food particles can still get trapped underneath the crown, attracting dangerous bacteria that attack your remaining natural tooth structure, which is what causes cavities. The bacteria may also irritate the gums around your crown, a condition called gum disease. This is why brushing and flossing are still important even when you have a crown.
Will Dental Insurance Cover the Cost of My Crown?
Provided you're receiving a crown as part of a necessary treatment to restore your oral health (such as protecting a severely decayed tooth), your insurance carrier is likely to foot a significant portion of the bill. The majority of plans will consider dental crowns a major restorative procedure and as such, will cover up to half the cost. Of course, this may differ based on your individual policy. Our team is more than happy to file insurance claims for you to help maximize your benefits. If you don't have insurance, we also partner with CareCredit, allowing you to finance the dental care you need without breaking the bank.