Implant Dentures – Loveland, OH
A More Reliable Solution for Severe Tooth Loss
Tens of millions of Americans are missing all of their teeth, and most of them rely on traditional dentures to bring their smile back. While dentures today are more natural-looking than ever as well as affordable, they aren't without their drawbacks. For one, they can easily shift out of place as they experience normal wear and tear. Not only does this make them more difficult to use, but they eventually need replacement after just a few years. With implant dentures in Loveland, our dentists can help secure your tooth replacement more effectively, expand your diet, and give you newfound confidence in your smile. Call us today to learn more about the process and confirm if implant dentures are right for you!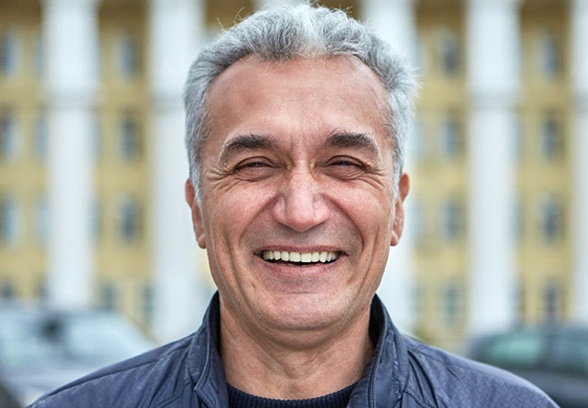 What are Implant Dentures?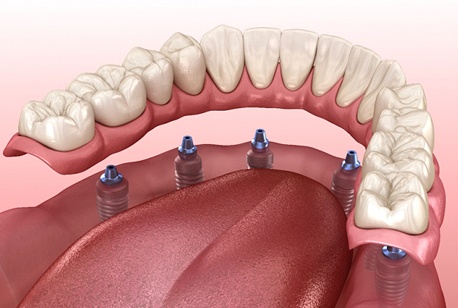 Imagine your existing denture, but instead of placing directly onto your gums to keep it in place, you attach it to a series of tiny posts placed throughout your mouth. That's exactly how implant dentures work! Dental implants are surgically attached to the bone tissue that makes up the jaw, ensuring your prosthesis feels and looks more natural. Depending on your needs, you may prefer either a fixed or removable option. You can read more about their unique differences below.
Fixed/Permanent Implant Dentures
Fixed dentures are not designed to be removed by anyone other than a dentist. While this can make them easier to clean, you'll need more dental implants to be placed (around four to six) which may not be ideal for everyone.
Removable Implant Dentures
As the name implies, removable dentures can be taken out for routine cleaning at home. They also require fewer dental implants on average (between two and five).
The Implant Denture Procedure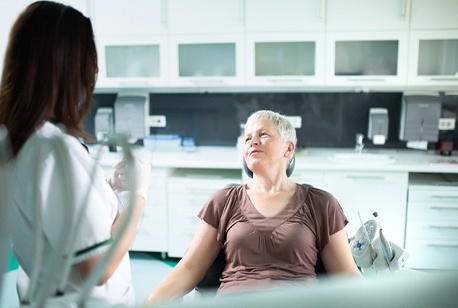 Following a consultation at our office, we'll have a much better idea of what your treatment plan will look like. For example, we'll confirm if preparatory treatments are needed (such as bone grafting or tooth extractions) before we can proceed. To complete the surgical portion of the procedure, we'll partner you with a trusted specialist in the area. During surgery, small incisions are made in the gum tissue, then tiny holes are created in the jaw for the implants to sit in, allowing them to fuse with the bone. After several months of healing, you'll return to have abutments attached (these provide stability to the denture), then your permanent restoration a couple weeks later.
Am I a Candidate for Implant Dentures?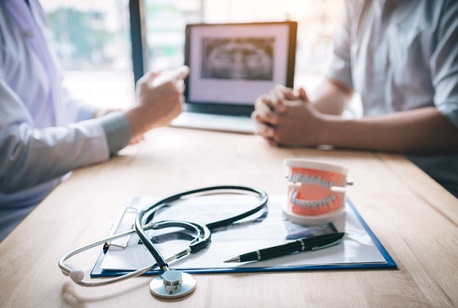 Most adults are eligible to receive dental implants, but there are a few important qualifications they'll need to meet. Candidates for implant dentures should have:
Good oral health in general
Positive overall health
Healthy bone tissue
Healthy gums
The willingness to commit to a strict oral care routine at home
Benefits of Combining Dentures & Dental Implants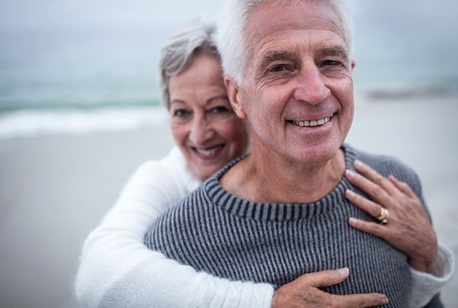 It's true that implant dentures cost more than standard dentures upfront, but their benefits more than make up for it. The most notable benefits include the following:
Better longevity (implants can last 30 years and longer)
Superior function (eat the foods you love, even tough, chewy, and crunchy options)
Enhanced esthetics (implants help prevent facial sagging and improve blood flow for a more youthful appearance)
Easier oral care (brushing and flossing feels like it did before you ever had a denture)
Cost-effective (you're not replacing a denture every few years when it's attached to dental implants)