Implant Dentures – Loveland, OH
A More Reliable Solution for Severe Tooth Loss
Tens of millions of Americans are missing all of their teeth, and most of them rely on traditional dentures to bring their smile back. While dentures today are more natural-looking than ever as well as affordable, they aren't without their drawbacks. For one, they can easily shift out of place as they experience normal wear and tear. Not only does this make them more difficult to use, but they eventually need replacement after just a few years. With implant dentures in Loveland, our dentists can help secure your tooth replacement more effectively, expand your diet, and give you newfound confidence in your smile. Call us today to learn more about the process and confirm if implant dentures are right for you!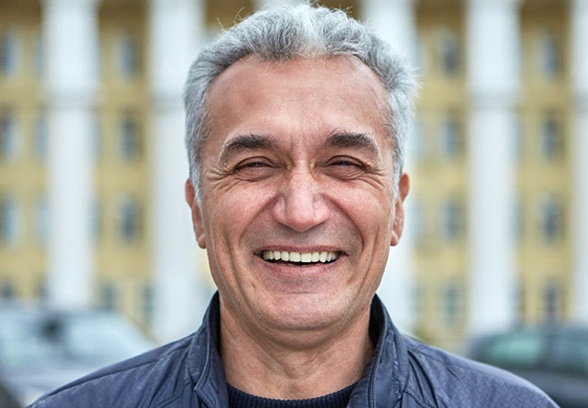 What are Implant Dentures?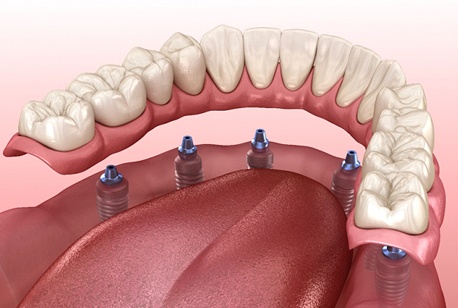 Imagine your existing denture, but instead of placing directly onto your gums to keep it in place, you attach it to a series of tiny posts placed throughout your mouth. That's exactly how implant dentures work! Dental implants are surgically attached to the bone tissue that makes up the jaw, ensuring your prosthesis feels and looks more natural. Depending on your needs, you may prefer either a fixed or removable option. You can read more about their unique differences below.
Fixed/Permanent Implant Dentures
Fixed dentures are not designed to be removed by anyone other than a dentist. While this can make them easier to clean, you'll need more dental implants to be placed (around four to six) which may not be ideal for everyone.
Removable Implant Dentures
As the name implies, removable dentures can be taken out for routine cleaning at home. They also require fewer dental implants on average (between two and five).
The Implant Denture Procedure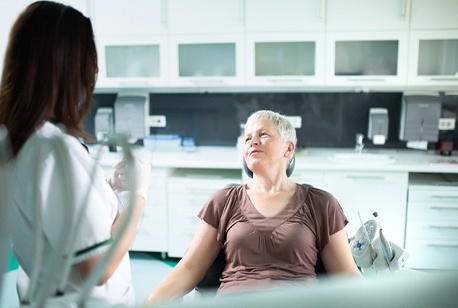 Following a consultation at our office, we'll have a much better idea of what your treatment plan will look like. For example, we'll confirm if preparatory treatments are needed (such as bone grafting or tooth extractions) before we can proceed. To complete the surgical portion of the procedure, we'll partner you with a trusted specialist in the area. During surgery, small incisions are made in the gum tissue, then tiny holes are created in the jaw for the implants to sit in, allowing them to fuse with the bone. After several months of healing, you'll return to have abutments attached (these provide stability to the denture), then your permanent restoration a couple weeks later.
Am I a Candidate for Implant Dentures?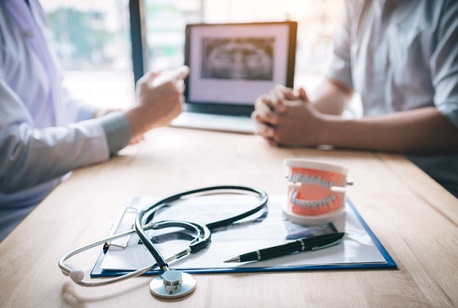 Most adults are eligible to receive dental implants, but there are a few important qualifications they'll need to meet. Candidates for implant dentures should have:
Good oral health in general
Positive overall health
Healthy bone tissue
Healthy gums
The willingness to commit to a strict oral care routine at home
Benefits of Combining Dentures & Dental Implants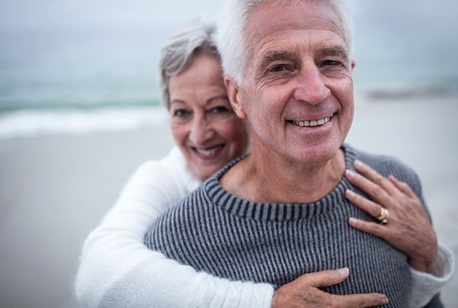 It's true that implant dentures cost more than standard dentures upfront, but their benefits more than make up for it. The most notable benefits include the following:
Better longevity (implants can last 30 years and longer)
Superior function (eat the foods you love, even tough, chewy, and crunchy options)
Enhanced esthetics (implants help prevent facial sagging and improve blood flow for a more youthful appearance)
Easier oral care (brushing and flossing feels like it did before you ever had a denture)
Cost-effective (you're not replacing a denture every few years when it's attached to dental implants)
Implant Dentures FAQs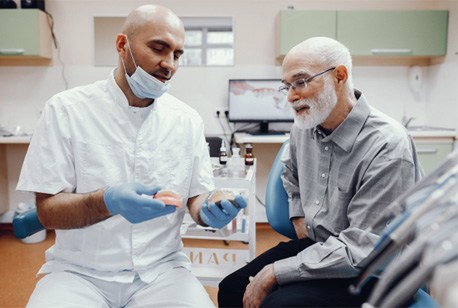 By now, maybe you think implant dentures in Loveland sound good. They'd certainly restore your grin to a full and beautiful form! Still, you'd be wise to learn more facts about them. Having the essential details will confirm whether the treatment is right for you. Fortunately, though, our office can get you started: listed below are the answers to oft-asked implant denture questions. Read them over to understand our work better. For additional information, feel free to call our office.
Can I Get Implant Dentures If I Already Have Regular Ones?
As a matter of fact, yes – you can switch from regular dentures to implant ones. That said, there are a few things to keep in mind.
Firstly, you'd still need to recover from the implant surgery. The switch to implant dentures, therefore, won't be immediate. However, a dentist could use your existing dentures as a temporary option. That way, you'd have usable teeth while you heal from the placement process.
Secondly, you may require a bone graft before treatment. Your jaw might have suffered bone loss due to your missing teeth. As such, a bone graft would give your jawbone sufficient support for implant surgery.
Will It Hurt to Get Implant Dentures?
Getting implant dentures involves little-to-no pain. In fact, dentists work to ensure the treatment is as smooth and comfortable as possible.
For starters, a dental team will numb your mouth for implant surgery. This step prevents discomfort while the prosthetics are placed. Instead, the most you'll feel is some slight pressure as the dentist operates.
Admittedly, you may ache while recovering from the placement and when first using the dentures. That's perfectly natural – your mouth must heal from the incisions and adjust to your new appliance. Thankfully, this soreness is temporary and fades with time. It's also manageable with over-the-counter pain relievers.
Of course, do call our office if your denture pain persists or worsens. There may be an underlying health issue.
Can I Eat Like Normal After the Surgery?
Following the initial implant surgery, stick to a liquid-only diet for a few days. Example items to include are protein shakes, broth, tea, yogurt, and cream soups. Such foods will provide needed nutrition while allowing your treatment sites to heal.
Once cleared from the liquid diet, you can switch to foods with more consistency. Generally, products you can cut with a spoon are okay to eat. Some good ones are:
Steamed veggies
Mashed potatoes
Oatmeal
Soft bread
Eggs
Cheese
Bananas
After three to four months of healing, you'll receive your new, permanent dentures. At that point, a normal diet may be resumed.
What If I Still Have Natural Teeth Present?
You don't need to lack all your natural teeth to get implant dentures. If you still have a few, a dentist could prep you with a tooth extraction or two. You'd then easily qualify for treatment.
However, things change if you still have many healthy, natural teeth. In that case, our office will recommend alternative restorations – partial dentures, implant bridges, etc. After all, dentistry's goal is to save natural teeth when possible. It wouldn't make sense to remove most of your existing teeth when doing so isn't necessary.