Meet Loveland's Favorite Dental Team
The team members at Gerome and Patrice Family Dentistry are a major part of what keeps the dental office running smoothly. We greatly appreciate their support and are proud to say that we have a team that has been with us for many years now. Our registered dental hygienists, dental assistants, and administrative team members ensure that your oral care experience is productive, efficient, and relaxing every step of the way.
Front Office Team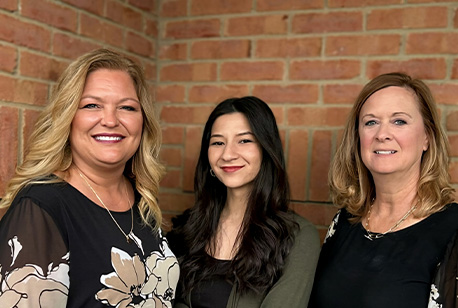 Our front office team members, including Angel, Debbie, and Annette, all play important roles for incoming patients.
Angel has been an office coordinator at our dental office since 1999 and keeps our dental office organized, efficient, and friendly. She loves interacting with patients and meeting new ones too! In her spare time, she enjoys being with her family, hiking, and gardening.
Debbie is our office manager and joined in January of 2018. She has over 20 years of experience and enjoys spending time with family, traveling, golfing, and reading in her spare time.
Annette may be relatively new to our team, but she has experience as a dental assistant, in an orthodontist's office, and behind the front desk. For her, the best thing about her job is talking to people – it's what makes the office full of fun! In her free time, she enjoys spending time with her family and taking beach vacations.
Registered Dental Hygienists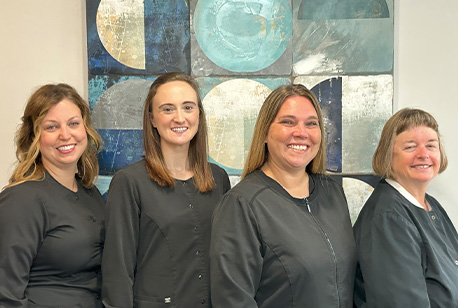 Dina joined our dental office in July of 2000 and has wanted to be a dental hygienist since she was 10 years old. She also enjoys crafting, cooking, and spending time with her husband and two kids.
Connie joined the dental office in 2006 and she enjoys spending time with her grandchildren.
Jodi has been a dental hygienist with us since 2009. When not at work, you'll find her spending time with her loving family.
Morgan joined our dental office in 2023. In her free time, she enjoys watching the Bengals and Cincinnati Reds with her husband and their beautiful daughter.
Dental Assistants
Sherry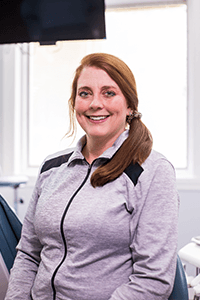 Sherry is an expanded functions dental assistant. She joined the dental office in 1999 and brings 18 years of experience with her from a previous dental office. She's fully trained to place fillings and sealants as well as perform coronal polishing. She has four children, two dogs and an aquarium full of fish!
Lisa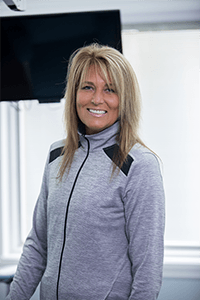 Lisa is also an expanded functions dental assistant, entered the dental field in 1990 and joined our dental office in 2006. Cosmetic dentistry is her specialty. She enjoys yoga, running and raising her two lovely children.
Julie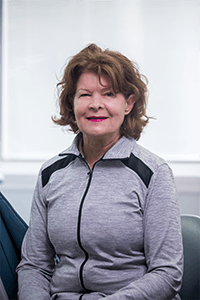 Julie began her career in the dental field as a dental assistant in 1987, joined the dental office in 1999, and eventually expanded her functions to include purchase coordinating, fixing and maintaining dental office equipment, and essentially becoming a "Wonder Woman" of the dental office! She values working in a dental office that is truly dedicated to serving patients. When not working, she's spending time with her husband and family.
Natalie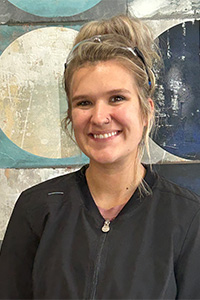 Natalie says that the best part of her job is being surrounded by a supportive and caring team of coworkers that help her learn and grow every single day. A graduate of Wilmington College and Dental Assistant Pro, she also has her certification in radiology. Natalie is married with a young son and three German Shorthaired Pointers. When she isn't working, she likes to travel, camp, ride four-wheelers, and read any chance she gets.
Erin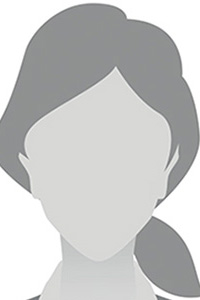 With several years of experience and counting, Erin has been helping patients achieve their dream smiles while improving their oral health and overall quality of life. She was raised in Cincinnati and studied at Ross IMDT to earn her license as a dental assistant. Outside the office, she loves spending time with her daughter and their cats, practicing arts and crafts, reading, watching movies, and swimming.