Cosmetic Dentistry – Loveland, OH
Simple Treatments That Enhance Your Smile
Do you sometimes hide your smile because you're embarrassed by your teeth? If so, you might want to consider doing something about it with cosmetic dentistry. Research has shown that smiling offers a lot of benefits, and you'll be more likely to smile when you feel good about the way you look. Smiling can actually reduce stress, lower your blood pressure, and boost your mood. Making the decision to pursue cosmetic dentistry in Loveland, OH doesn't just help you look more attractive; it improves your health too! That's why we want you to know about all the options available from Gerome & Patrice Family Dentistry.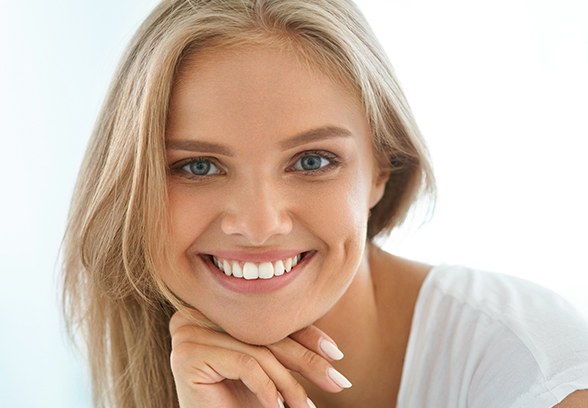 Why Choose Gerome & Patrice Family Dentistry for Cosmetic Dentistry?
In-Office and Take-Home Whitening Available
Full Mouth Reconstructions for Complex Cases
Always Uses Metal-Free Restorations to Ensure Natural Esthetics
Porcelain Veneers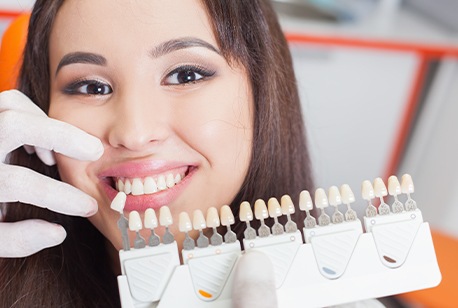 When you want the most comprehensive approach to hiding multiple imperfections in your smile at a time, porcelain veneers offer a solution that effectively hides cracks, gaps, stains, chips, and even slightly rotated teeth. Each veneer is customized to your exact preference, including the size, shape, and color. This way, your veneers blend in effectively with the rest of your existing teeth. With proper at-home oral care, your veneers should last at least 10 years.
Learn More About Porcelain Veneers
Metal-Free Dental Crowns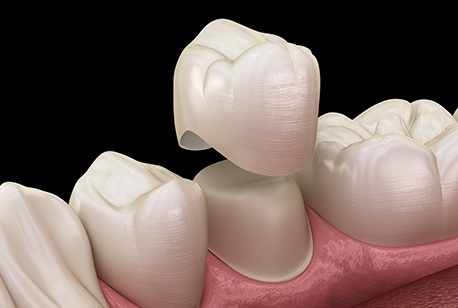 In the past, dental crowns were made with metal materials, including nickel, copper, and silver. While these materials may be strong, they aren't exactly ideal if you care about your smile's appearance. At Gerome & Patrice Family Dentistry, we use materials that actually blend in with your existing tooth enamel. This ensures that your teeth remain durable for many years to come without affecting your ability to smile in the process.
Cosmetic Dental Bonding
Do you only have a handful of chips, cracks or permanent discolorations that do not necessarily require a significant amount of treatment to resolve? When a single damaged tooth is preventing you from smiling, cosmetic bonding can quickly and effectively hide these imperfections, leaving your smile looking more attractive than ever. The material we use to repair damaged teeth (composite resin) is exactly what we use for tooth-colored fillings. With proper care, they should last at least a decade.
Learn More About Cosmetic Dental Bonding
Zoom! Teeth Whitening
With powerful bleaching gels from Zoom! Whitening, you can easily remove stains caused by coffee, tea, tobacco, and other external factors. You can also address stains deeply embedded in your tooth enamel, a function you won't find in store-bought solutions. Plus, with both in-office and take-home solutions available at Gerome and Patrice Family Dentistry, it's easy to achieve results in just one hour or over the span of two weeks on your own schedule.
Learn More About Teeth Whitening
How to Choose a Cosmetic Dentist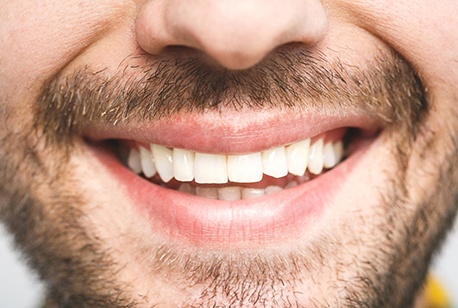 Finding a cosmetic dentist may be more difficult than expected. The ADA doesn't recognize cosmetic dentistry as a true specialty, which means any dentist can claim they are a cosmetic one. That's why we've included some easy yet significant tips for finding the right dentist for you. Read on to learn more!
Learn More About How to Choose a Cosmetic Dentist
Cosmetic Dentistry FAQs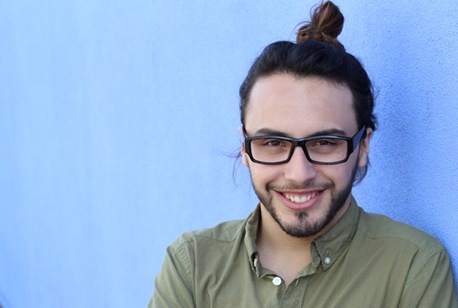 Using specific aesthetic treatments, your cosmetic dentists can help you achieve the beautiful smile you deserve. Cosmetic dentistry can improve the size, shape, color, and even alignment of your pearly whites so that you can smile with complete confidence. While you might be excited to invest in your smile, chances are you might have some questions about the details of the treatment process. That's why we have decided to answer some of our most frequently asked questions about cosmetic dentistry for your benefit.
Will My Dental Insurance Cover Cosmetic Dentistry?
In the vast majority of cases, your insurance won't cover the cost of strictly cosmetic procedures. However, there are some cases where a cosmetic treatment overlaps with another form of dentistry, such as restorative, which they may cover. If a cosmetic treatment is deemed essential to restore or improve your oral health, such as a metal-free crown, your insurance policy may elect to cover up to 80% of the cost.
Our friendly team will work with your insurance carrier and will be more than happy to file claims on your behalf to minimize your out-of-pocket expenses. We also offer third-party financing through CareCredit, which allows you to fund the care your smile needs at very little interest.
Can My Teenager Benefit from Cosmetic Dentistry?
We understand that teens are often incredibly self-conscious about their appearance, including their smiles. Cosmetic dentistry may be just the thing your teen needs to take their self-confidence to the next level. Your teen may be a candidate for certain cosmetic treatments, like teeth whitening or dental bonding to fix a broken or gapped tooth. Bonding may also be right for younger children, if their damaged tooth presents a problem for their oral health. The best way to determine whether your teen can benefit from cosmetic dentistry is to schedule a consultation with one of our dentists.
How Long Will the Process Take?
This question is impossible to answer without your coming in for an appointment. Since every case is different, there is no fixed timeline for how long it will take to revitalize your smile. Certain procedures like teeth whitening can be completed in just one appointment, while others, like veneers or crowns, can take two or more. Our dentists can give you a more detailed and accurate timeline at your consultation.
Am I a Good Candidate for Cosmetic Dentistry?
If you aren't satisfied with some aspect of the teeth you see smiling back at you in the mirror, you might be a candidate for cosmetic dentistry. Generally, we ask that our patient's smiles are infection-free before undergoing cosmetic procedures, so we must address cavities and gum disease prior to improving the appearance of your pearly whites.
Are you ready to transform your smile for the better? Then give our office a call today!