Cosmetic Dentistry – Loveland, OH
Simple Treatments That Enhance Your Smile
Do you sometimes hide your smile because you're embarrassed by your teeth? If so, you might want to consider doing something about it with cosmetic dentistry. Research has shown that smiling offers a lot of benefits, and you'll be more likely to smile when you feel good about the way you look. Smiling can actually reduce stress, lower your blood pressure, and boost your mood. Making the decision to pursue cosmetic dental care doesn't just help you look more attractive; it improves your health too! That's why we want you to know about all the options available from Gerome & Patrice Family Dentistry.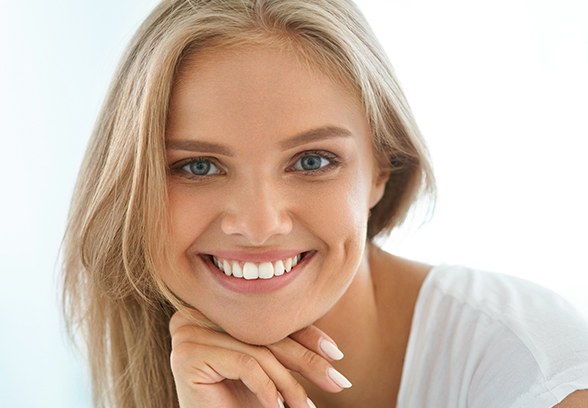 Why Choose Gerome & Patrice Family Dentistry for Cosmetic Dentistry?
In-Office and Take-Home Whitening Available
Full Mouth Reconstructions for Complex Cases
Always Uses Metal-Free Restorations to Ensure Natural Esthetics
Porcelain Veneers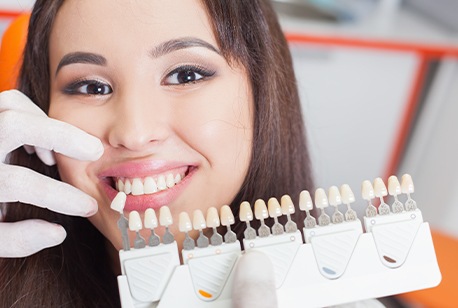 When you want the most comprehensive approach to hiding multiple imperfections in your smile at a time, porcelain veneers offer a solution that effectively hides cracks, gaps, stains, chips, and even slightly rotated teeth. Each veneer is customized to your exact preference, including the size, shape and color. This way, your veneers blend in effectively with the rest of your existing teeth. With proper at-home oral care, your veneers should last at least 10 years.
Learn More About Porcelain Veneers
Metal-Free Crowns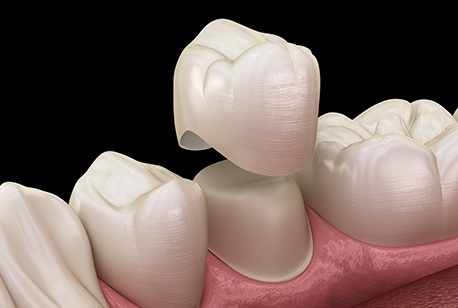 In the past, dental crowns were made with metal materials, including nickel, copper and silver. While these materials may be strong, they aren't exactly ideal if you care about your smile's appearance. At Gerome & Patrice Family Dentistry, we use materials that actually blend in with your existing tooth enamel. This ensures that your teeth remain durable for many years to come without affecting your ability to smile in the process.
Cosmetic Bonding
Do you only have a handful of chips, cracks or permanent discolorations that do not necessarily require a significant amount of treatment to resolve? When a single damaged tooth is preventing you from smiling, cosmetic bonding can quickly and effectively hide these imperfections, leaving your smile looking more attractive than ever. The material we use to repair damaged teeth (composite resin) is exactly what we use for tooth-colored fillings. With proper care, they should last at least a decade.
Zoom! Teeth Whitening
With powerful bleaching gels from Zoom! Whitening, you can easily remove stains caused by coffee, tea, tobacco, and other external factors. You can also address stains deeply embedded in your tooth enamel, a function you won't find in store-bought solutions. Plus, with both in-office and take-home solutions available at Gerome and Practice Family Dentistry, it's easy to achieve results in just one hour or over the span of two weeks on your own schedule.