Dental Implants – Loveland, OH
How You Can Restore Teeth to the Fullest
At Gerome & Patrice Family Dentistry, we know that dental implants offer an ideal solution for replacing missing teeth. With high success rates and the flexibility of being able to replace a single tooth, several teeth, or all of your teeth, dental implants in Loveland, OH can fit the lifestyle of virtually any patient.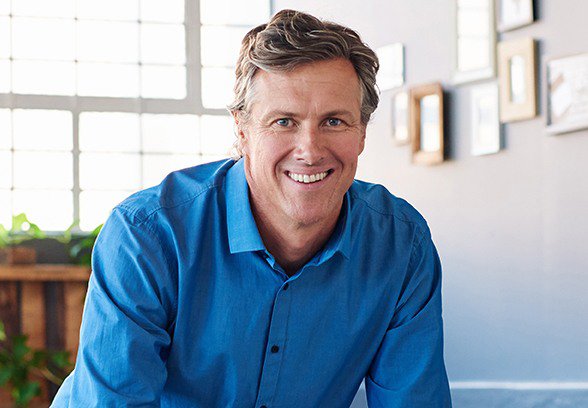 Why Choose Gerome & Patrice Family Dentistry for Dental Implants?
Exceptional Attention to Detail from Dentists
Works with Experts in Dental Implants for Placement Phase
Natural-Looking and Long-Lasting Dental Restorations
Benefits of Dental Implants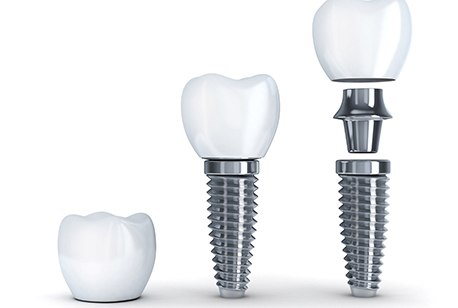 Dental implants are different from any other form of tooth replacement because they replace the whole tooth, not just the crown. By replacing the tooth root as well as the crown, dental implants offer even greater stability. They are strong and long lasting. They also support ongoing jaw health. Tooth roots stimulate the jawbone to keep it strong and healthy, and replacing tooth roots that have been lost is good for your jaw and facial shape. You won't have the same problems with sagging that you might with other forms of tooth replacement.
Indications for Dental Implants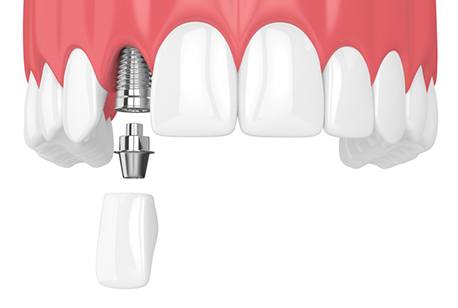 We'll use excellent skill in crafting your dental implant restorations, whether you need to replace a single tooth, multiple teeth, or an entire arch! A dental implant can support a single crown, a bridge, or a denture, and we'll provide the restorations that best suit your tooth loss.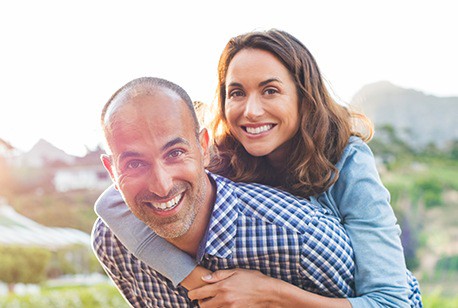 Missing Single Tooth
To replace a single tooth, a single implant is placed inside of the jaw so that it can integrate with your existing bone tissue. Once the bone and gum tissue has fully healed, an abutment can be placed, which attaches your permanent restoration to the implant and keeps it stable.

Missing Multiple Teeth
To replace multiple teeth, a pair of dental implants can be placed in order to support an implant-retained bridge. Instead of relying on neighboring teeth to act as the foundation for your restoration, the titanium posts provide support. This option is ideal if you want to maintain as much original enamel as possible.

Missing All Teeth
If you are missing all the teeth in your smile, a series of dental implants can easily be placed throughout the mouth. This allows for a larger restoration, such as an implant-retained denture, to be attached. Overall, implants provide improved stability for full and partial dentures as well as greater long-term reliability.
How Dental Implants Work

Dental implant treatment is broken up into two main phases: the placement phase and the restoration phase. In order to place the dental implants, we work with some of the most experienced implant specialists in Cincinnati to perform this phase of the procedure. Once your implants have fully integrated, you'll come back to our dental office to have the implants restored with a lifelike crown, bridge or denture. The process may be more complicated depending on the number of teeth you need to replace (i.e. a single tooth implant vs. a 3-unit bridge.)
Understanding the Cost of Dental Implants

While dental implants may be more costly than other tooth replacement methods, they are often considered a long-term investment for a reason. Just keep in mind that the total cost of your implants will likely vary depending on the number of teeth you need to replace and the preparatory treatments you need to have performed prior to surgery. Once all is said and done, you can expect your replacement teeth to last for decades and in many cases even a lifetime, which is not something that can be said for bridges or dentures.
Learn More About the Cost of Dental Implants
Dental Implant FAQs

A dental implant is the most predictable solution to replace a lost tooth because they are proven to last for decades with the right aftercare. Although you're excited to enjoy their benefits for yourself, it's normal to have several questions. We will explain the process and what you can expect during your initial consultation. While you wait for your visit, here are the answers to a few of the most common questions we're asked.
Can I get dental implants if I have gum disease?
If you've lost a tooth or two from gum disease, you're not alone. In fact, it's the leading cause of tooth loss despite being preventable. Unfortunately, you won't be able to replace the tooth you've lost if the infection is still active. That doesn't mean you can't become a candidate for dental implants. Periodontal therapy will stop the infection and create the healthy foundation your new smile needs to thrive.
Will I need bone grafting?
The long-term success of your new smile relies on your jawbone fusing to the titanium implant post through a process called osseointegration. To ensure this occurs, many patients need bone grafting before their implant placement procedure, especially those who have had missing teeth for several years or advanced gum disease.
Although it will add another step to your treatment plan, it's essential to ensure your jaw can support the implant. While the procedure is common with dental implants, not everyone needs bone grafting. We will review a CT scan of your jaw to determine if you need the treatment.
Can dental implants fail?
Dental implants are the most reliable solution to treat tooth loss because they have over a 95% success rate. While it's rare, dental implants can fail, but the risk is generally less than 5%. Often, it's the result of a preventable infection called peri-implantitis. There are several things you can do to safeguard your smile, like maintaining your oral hygiene at home and visiting your dentist regularly.
Can I use my dental insurance?
Many dental insurance carriers will cover a portion of the cost after paying your annual deductible. Although every policy differs, you can often use your coverage to reduce the amount you pay for certain steps in your treatment until reaching your yearly limit. We will work on your behalf with your dental insurance to file the necessary claims and forms to lower the amount you need to pay out-of-pocket. A member of our team will explain how your coverage is being used and if there's a remaining balance.
Are dental implants worth the cost?
You'll initially pay more for dental implants, but they are most cost-effective long-term because they should never need to be replaced with the right aftercare. Not to mention, an implant post acts as a new tooth root, stimulating your jaw to preserve your bone. This improves your oral health to reduce the risk of needing a costly treatment in the future to lower your overall dental expenses for a true investment in your smile.