Dental Implants – Loveland, OH
We Can Restore Your Smile to the Fullest
At Gerome & Patrice Family Dentistry, we know that having gaps in your grin can make your everyday life inconvenient, embarrassing, or difficult. That's why we offer dental implants – an ideal solution for replacing missing teeth. With incredibly high success rates and the flexibility of being able to replace a single tooth, several teeth, or all of your teeth, dental implants in Loveland, OH can fit the lifestyle of virtually any patient. Contact our dental office today to get started!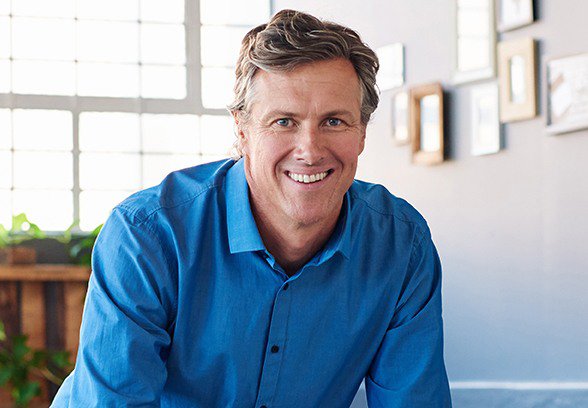 Why Choose Gerome & Patrice Family Dentistry for Dental Implants?
Works with Local Experts for Dental Implant Placement
Reasonable Prices with Zero Hidden Fees
Skilled Dentists Who Listen to Your Needs
What Are Dental Implants?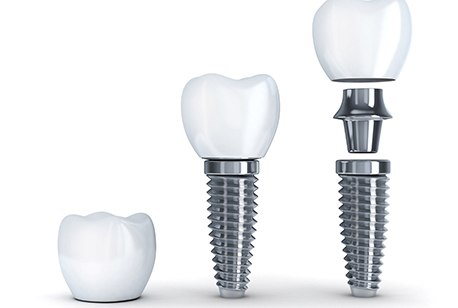 Dental implants have three main parts, each of which plays a key role in replicating the appearance and function of your natural teeth. There's the titanium post that serves as the root, the restoration that completes your smile's appearance, and the metal abutment that connects the two. Together, these three components create a solution that looks and feels just like your natural pearly whites. You'll be able to chew all of your favorite foods with ease. Additionally, dental implants can potentially last for decades. These are just a few of the reasons why Dr. Gerome and Dr. Patrice typically recommend dental implants over traditional tooth replacements.
The 4-Step Dental Implant Process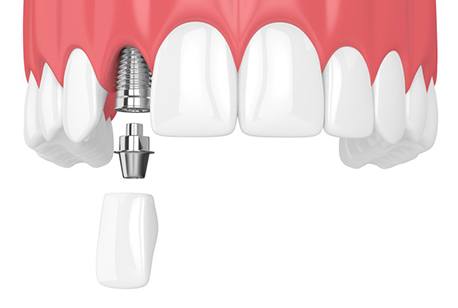 Unlike replacing teeth with dental bridges or dentures, getting dental implants requires multiple appointments that can span several months to a year or more. However, once you've completed the process, you'll have a smile that looks great, feels natural, and has the potential to last for decades, if not for the rest of your life. During your appointment, we'll explain the details of how dental implants work in Loveland, but for now, here are the basic four steps of the dental implant process.
Initial Dental Implant Consultation

First, you'll meet with Dr. Gerome or Dr. Patrice to have your smile examined. With their highly trained eyes as well as high-definition X-rays, they'll determine whether you qualify for dental implants. Good candidates for this treatment have a strong, healthy jawbone, but you could still be eligible even if you've experienced bone loss in your jaw. You may simply need to undergo a bone graft or sinus lift to ensure that your jawbone can give the implants the support they need.
Your consultation is also a great opportunity to ask any questions you may have about dental implants and what you can expect throughout the treatment process.
Dental Implant Surgery

Our dentists refer patients to a trusted specialist in the area for the surgical portion of dental implant treatment. That way, we can be sure you're receiving high-quality care from a true expert in the field of rebuilding smiles.
Before your dental implant surgery, your mouth and jaw will be numbed with local anesthetic. You may also be given sedation to soothe your nerves. Then, your implant dentist in Loveland will make small incisions in your gums at precise locations, through which they can position the implant posts at pre-determined angles in your jawbone. Once the implants have been placed, your gums will be stitched up and you'll be sent home to begin the healing process.
Dental Implant Osseointegration & Abutment
Over the next three to six months, a natural process called osseointegration will occur. Because dental implants in Loveland are made from biocompatible materials, they encourage your jawbone to grow around them. This creates a powerful bond that allows the implants to support any number of replacement teeth for decades to come.
Following osseointegration, you'll undergo a second oral surgery. The tops of your implants are exposed, and metal attachments called abutments are secured onto them. Your abutments will eventually hold your restorations in place.
Delivery of Dental Implant Restoration(s)

It should take just a few short weeks to recover from your abutment surgery, at which point you'll return to our dental office to receive your brand-new teeth. Based on impressions that we took of your mouth, a dental lab will have given us replacement teeth that resemble your natural ones in almost every regard. Once we've placed your crown, bridge, or denture onto your abutments, you'll be able to enjoy a full smile that looks and feels as though you'd never lost any teeth in the first place!
Benefits of Dental Implants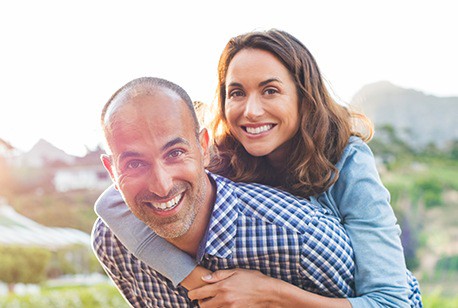 Nowadays, you have more options than ever to replace missing teeth. Although traditional solutions are still effective, more people than ever are turning to dental implants because they provide several advantages not possible with conventional prosthetics. Since they replace the entire tooth structure, including the root, the benefits of dental implants are unmatched. Here's what you'll enjoy when investing in your smile using a long-term option.
High Success Rate

Dental implants are the most reliable option to treat tooth loss because they provide predictable results. In fact, they have over a 95% success rate. They are proven to last for decades with the right aftercare, like maintaining your oral hygiene at home and visiting your dentist regularly for a cleaning and checkup.
Looks & Feels Natural

Your new tooth is carefully crafted from all-ceramic material. It's designed to match the color, size, and shape of your remaining teeth to blend in when you smile. It will look natural, so no one will know it isn't a real tooth.
A titanium implant post inserted into your jawbone supports your restoration. Your bone fuses to the post through a process called osseointegration. With the support of your jaw, you'll regain as much as 70% of your natural biting force to enjoy your favorite foods.
Prevent Oral Health Problems

Many traditional treatments for tooth loss rely on other teeth for support, like a bridge or partial. In some cases, they may need to be permanently altered, such as with a fixed bridge. Dental implants standalone, so they don't need the support of healthy teeth. This allows them to remain unchanged to stay strong and healthy for many years with the right care.
Tooth loss causes your jawbone to slowly shrink because it isn't being stimulated by your root. As your jaw loses density, it increases your risk of several new issues, like cavities, gum disease, and additional missing teeth. With the implant post acting as a root, it stimulates your bone to keep your jaw strong. This stops dental drift to improve your oral health.
Look Younger

Missing teeth can lead to signs of premature aging because your facial tissues won't have adequate support. This can cause wrinkles and crevasses that make you appear years older than your true age. Dental implants provide your facial tissues with adequate support to turn back the hands of time to restore a youthful appearance.
Cost-Effective, Long-Term Solution

Traditional prosthetics only last for a few years before needing to be replaced, whereas dental implants can thrive for several decades with the right aftercare. You'll never need to worry about paying to have them replaced to save money down the road.
Who Dental Implants Can Help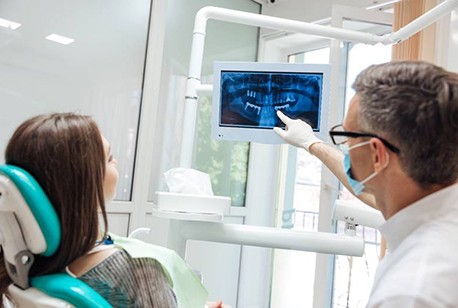 The truth is, almost anyone with missing teeth can benefit from dental implants in Loveland. At Gerome & Patrice Family Dentistry, we'll use our excellent skills in crafting your dental implant restorations, whether you need to replace a single tooth, multiple teeth, or an entire arch! A dental implant can support a single crown, a bridge, or a denture, and we'll provide the restorations that best suit your tooth loss needs. During your consultation, we'll ensure you're eligible to move forward with the process and will create a custom treatment plan based on your unique needs.
Who Is a Good Candidate for Dental Implants?

You'll be happy to know that basically any healthy adult is a good candidate for dental implants in Loveland! It's one of the many reasons why they've become an incredibly popular method of tooth replacement. At the very least, you'll need to have the following three things to qualify for this modern tooth loss solution:
Good Overall Health : The dental implant process involves oral surgery, which is why you'll need to be well enough to undergo this minor procedure.
Great Oral Health: Existing issues like cavities and gum disease can wreak havoc on your dental implants. For that reason, you'll need to treat those problems before replacing your missing teeth.
Adequate Jawbone Density: Your jawbone must be strong enough to support dental implants to ensure successful treatment.
Don't think you meet the criteria? No worries! You may still be able to get dental implants by completing certain preliminary treatments like tooth extractions, gum disease therapy, or bone grafting. Our team will help you schedule these procedures to get you on the right track toward a newly rebuilt smile!
Missing One Tooth

To replace a missing tooth, a single implant is placed inside of the jaw so that it can integrate with your existing bone tissue. Once the bone and gum tissue has fully healed, an abutment can be placed, which attaches your permanent restoration to the implant and keeps it stable.
Missing Multiple Teeth
To replace multiple teeth, a pair of dental implants can be placed in order to support an implant bridge. Instead of relying on neighboring teeth to act as the foundation for your restoration, the titanium posts provide support. This option is ideal if you want to maintain as much original enamel as possible.
Missing All Teeth

If you are missing all the teeth in your smile, a series of dental implants can easily be placed throughout the mouth. This allows for a larger restoration, such as an implant denture, to be attached. Overall, implants provide improved stability for full and partial dentures as well as greater long-term reliability.
Understanding the Cost of Dental Implants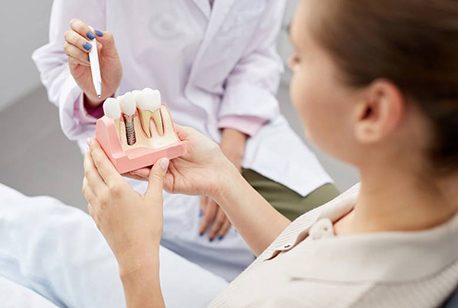 While dental implants may be more costly than other tooth replacement methods, they are often considered a long-term investment for a reason. Just keep in mind that the total cost of your implants will likely vary depending on the number of teeth you need to replace and the preparatory treatments you need to have performed prior to surgery. Once all is said and done, you can expect your replacement teeth to last for decades and in many cases even a lifetime, which is not something that can be said for bridges or dentures.
Types of Dental Implants

One of the primary variables affecting the cost of your treatment is how many teeth you're missing, which affects how many implant posts you'll need. You may receive one of the following treatments:
Single tooth implant: A single implant post topped with a lifelike dental crown can fill the gap created by just one missing tooth.
Implant bridge: Implants can be placed at either end of the space in your grin with a dental bridge suspended in between to replace several missing teeth in a row.
Implant denture: For patients who are missing all teeth, four to six implants can be used to secure a full denture. The sturdy foundation prevents the slippage associated with traditional dentures.
What are the Stages of Dental Implant Treatment?

Getting dental implants requires multiple appointments over the course of several months to a year, with each stage incurring its own cost.
First comes your consultation, where Dr. Gerome or Dr. Patrice examine your mouth and take x-rays to determine your eligibility for dental implants. They might find that you need preparatory treatment, like bone grafting or periodontal therapy, before implants can be placed.
During the implant placement surgery, your gums are opened up to allow the post to be installed inside your jawbone. You'll spend the next three to six months healing, during which the implants fully integrate with your bone. Once this process is finished, you'll undergo a smaller surgery to receive your abutments, which are little metal connectors that attach your restoration to your implants.
Lastly, you'll return to our office to get your crown, bridge, or denture secured onto your implants, completing your new and improved smile.
Are Dental Implants Worth the Investment?

Due to their longevity and other incredible benefits, dental implants are well worth the investment. While you might pay more upfront for implants, they have the unique ability to last for decades with proper care. Considering the fact that traditional bridges and dentures need to be replaced every few years, you'll likely end up saving money in the long run by getting implants. Additionally, implants are the only option that replaces teeth from the root up, stimulating your jawbone and keeping you looking young and vibrant. It's no wonder thousands of Americans choose to invest in dental implants every year!
Does My Dental Insurance Cover Dental Implants?

Unfortunately, many dental insurance carriers consider implants to be a purely cosmetic treatment and don't cover the full cost. However, your policy may elect to cover some aspects of the treatment, such as gum disease therapy or bone grafting.
If you'd like help understand the details of your insurance plan, just contact us! Our team would be more than happy to assist you. We can evaluate your plan and maximize your benefits so that you can pay for your new smile without breaking the bank.
Maintaining & Caring for Your Dental Implants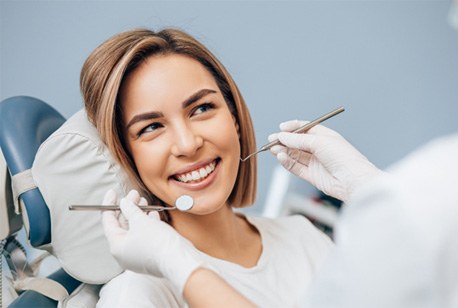 Once you've fully rebuilt your missing teeth with dental implants, you'll want to ensure that they last as long as possible. After all, they do come with a much higher upfront cost than other restorative treatments. Fortunately, these titanium posts are much easier to maintain compared to dental bridges and dentures. Here are some of the basic steps you'll need to follow to care for your dental implants.
Prioritize Good Oral Hygiene

While getting cavities in your titanium posts is impossible, it doesn't mean the gums and other teeth around your implants won't be immune to complications. Since one of the most common reasons for implant failure is peri-implantitis—an infection in the gum tissue surrounding the metal post—you'll need to keep strict oral hygiene to make the most of your newly rebuilt teeth. To avoid this, simply brush, floss, and rinse with mouthwash every day.
Eat a Healthy Diet

With dental implants, you'll be able to enjoy all your favorite foods like you could with your natural teeth. However, though your diet will significantly expand, you'll want to consume meals that are beneficial to your posts as well as your oral and overall health. Not only are some foods harder to chew, but sugary treats can increase the risk of bacteria and decay in your mouth. To prevent breaking your implants or experiencing an infection, make sure to stick to calcium-rich and nutrient-dense meals, including dairy products, veggies, fruits, and lean proteins to maintain healthy gums and jawbone.
Break Bad Oral Habits

Other than smoking or using tobacco products, which are detrimental to your oral and overall health, you'll also want to avoid habits like chewing on ice or using your teeth as tools. While these might appear harmless at first glance, you can easily damage or increase the chance of developing an infection around your dental implants. If you need assistance in quitting these habits, don't hesitate to contact our team for the support and resources you need for a successful treatment.
Protect Your Dental Implants

Do you typically play contact sports? Are you usually grinding or clenching your teeth while sleeping? If so, you'll want to invest in a mouthguard or nightguard for bruxism to protect your dental implants. One accidental hit can easily cause your metal posts to fail, and constant grinding can wear them down over time. Our team can provide you with custom-made oral appliances to help keep your new teeth safer in the long term.
Schedule Regular Dental Checkups

While cleaning your teeth and dental implants at home is essential for preventive care, you'll only be able to do so much on your own. That's why you'll want to visit your dentist for checkups and cleanings every six months to properly maintain your restorations and oral health. Not only will we be able to remove plaque/tartar and polish your smile, but we can also address any underlying/developing problems that can spell disaster later on if they aren't treated ahead of time. This can help keep your implants safe and healthy for much longer while also saving you money in the long run.
Dental Implant Process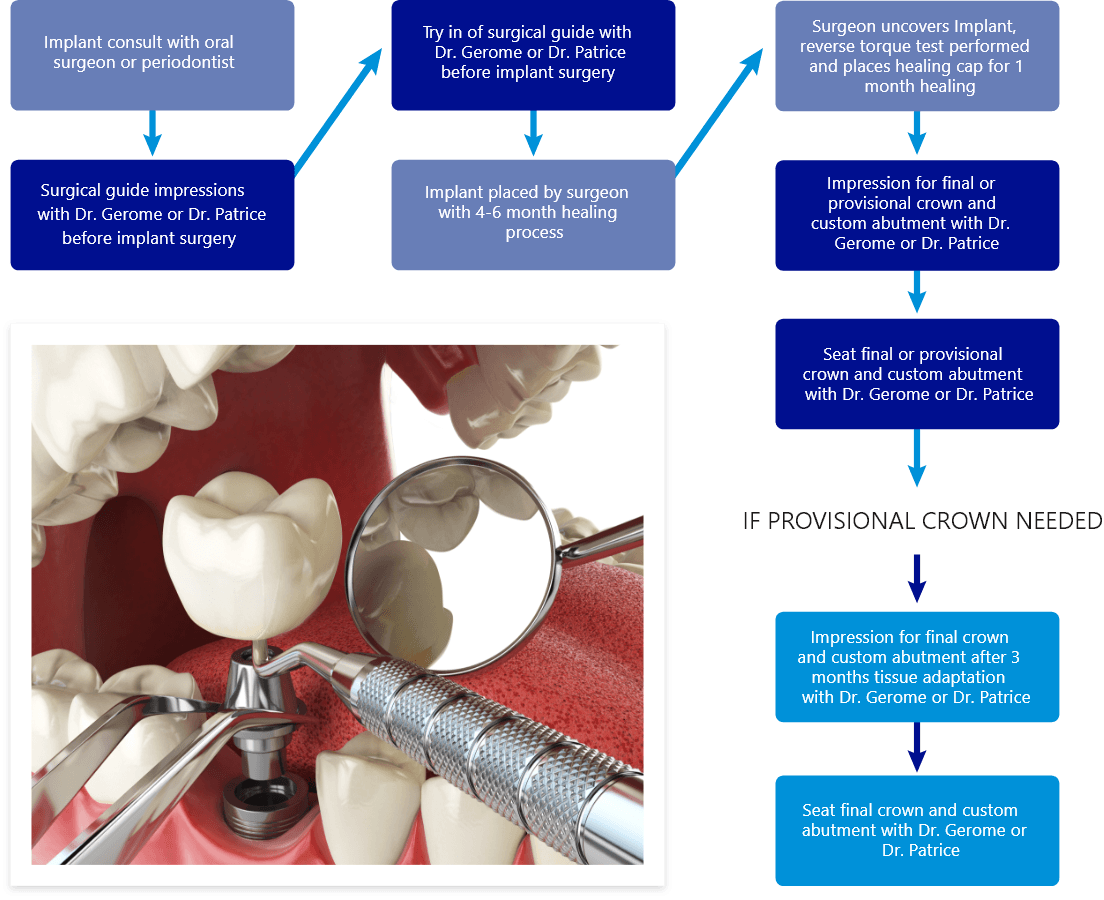 Dental Implant FAQs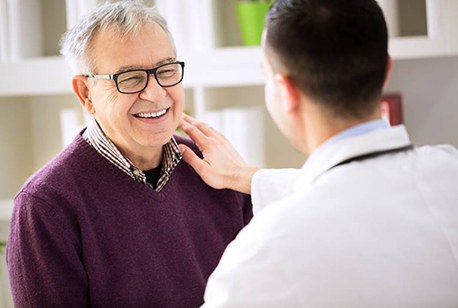 A dental implant is the most predictable solution to replace a lost tooth because they are proven to last for decades with the right aftercare. Although you're excited to enjoy their benefits for yourself, it's normal to have several questions. We will explain the process and what you can expect during your initial consultation. While you wait for your visit, here are the answers to a few of the most common questions we're asked.
Can I get dental implants if I have gum disease?
If you've lost a tooth or two from gum disease, you're not alone. In fact, it's the leading cause of tooth loss despite being preventable. Unfortunately, you won't be able to replace the tooth you've lost if the infection is still active. That doesn't mean you can't become a candidate for dental implants. Periodontal therapy will stop the infection and create the healthy foundation your new smile needs to thrive.
Will I need bone grafting?
The long-term success of your new smile relies on your jawbone fusing to the titanium implant post through a process called osseointegration. To ensure this occurs, many patients need bone grafting before their implant placement procedure, especially those who have had missing teeth for several years or advanced gum disease.
Although it will add another step to your treatment plan, it's essential to ensure your jaw can support the implant. While the procedure is common with dental implants, not everyone needs bone grafting. We will review a CT scan of your jaw to determine if you need the treatment.
Can dental implants fail?
Dental implants are the most reliable solution to treat tooth loss because they have over a 95% success rate. While it's rare, dental implants can fail, but the risk is generally less than 5%. Often, it's the result of a preventable infection called peri-implantitis. There are several things you can do to safeguard your smile, like maintaining your oral hygiene at home and visiting your dentist regularly.
Can I use my dental insurance to pay for dental implants?
Many dental insurance carriers will cover a portion of the cost after paying your annual deductible. Although every policy differs, you can often use your coverage to reduce the amount you pay for certain steps in your treatment until reaching your yearly limit. We will work on your behalf with your dental insurance to file the necessary claims and forms to lower the amount you need to pay out-of-pocket. A member of our team will explain how your coverage is being used and if there's a remaining balance.
Are dental implants worth the cost?
You'll initially pay more for dental implants, but they are most cost-effective long-term because they should never need to be replaced with the right aftercare. Not to mention, an implant post acts as a new tooth root, stimulating your jaw to preserve your bone. This improves your oral health to reduce the risk of needing a costly treatment in the future to lower your overall dental expenses for a true investment in your smile.