Full Mouth Reconstruction – Loveland, OH
Rebuild a Beautiful, Functional Smile
Gerome & Patrice Family Dentistry offers a range of options for correcting damage to your smile, like broken or missing teeth. A combination of cosmetic and restorative dentistry will improve the appearance and function of your smile. These techniques can be combined to design a full-mouth reconstruction in Loveland, OH to address complex issues. You may have more than one concern that needs to be addressed: broken teeth, extensive decay, missing teeth, chips, and more. Dr. Gerome and Dr. Patrice are committed to helping our patients have whole smiles by performing comprehensive full-mouth reconstruction, or as we like to call it, a "smile makeover".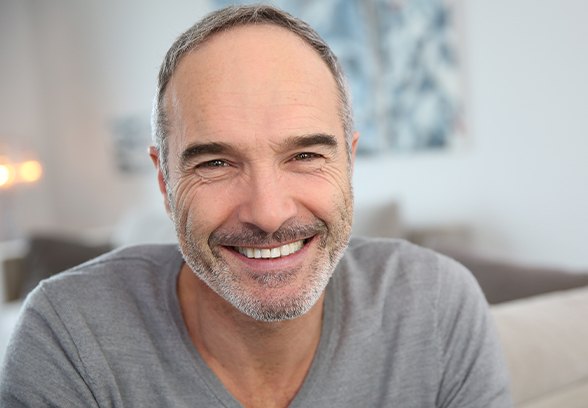 Why Choose Gerome & Patrice Family Dentistry for Full-Mouth Reconstruction?
Durable Restorations Designed to Look and Feel Natural
Dental Crowns, Bridges, Dentures and Dental Implants Available
Experienced Dentists and Team with High Attention to Detail
What is Full Mouth Reconstruction?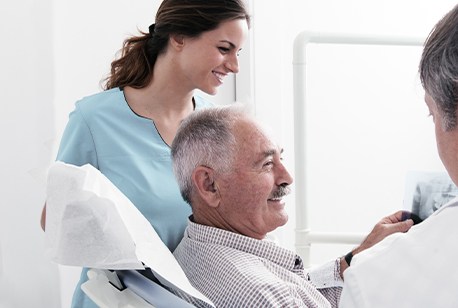 Full mouth reconstruction is personalized to your specific pattern of damage. It involves specific cosmetic and restorative procedures to improve the health, function, and appearance of your smile. After a thorough consultation to discuss your concerns and learn more about your goals, we'll create a customized treatment plan.
What Can I Expect with Full Mouth Reconstruction?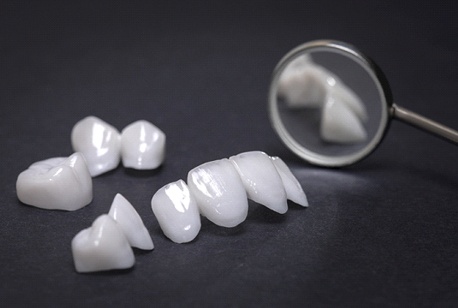 Through Dr. Gerome's and Dr. Patrice's commitment to continuing education, they have both developed a talent for performing full mouth reconstruction. If you're missing teeth, we'll want to replace them. Missing teeth contribute to a host of ongoing oral health and function problems.
If you're unhappy with the appearance of your smile, we can combine veneers and crowns to both protect and strengthen your smile while improving your appearance. No matter your needs, we have the solutions for you, which can include 1 or more treatments, such as:
Dental crowns
Dental implants
Dentures
Fillings
Root canal therapy
Veneers
Crown and bridge
We'll take the time to evaluate the color, size, shape, and positioning of your teeth to create natural-looking solutions that add harmony and balance to your smile. Our office uses the latest advancements in dentistry to ensure exceptional results while keeping your comfort a top priority.
Benefits of Full Mouth Reconstruction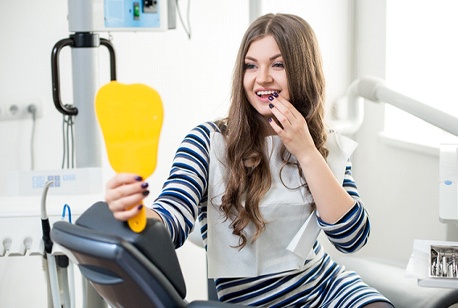 You can have the healthy, beautiful smile you deserve to invest in your self-esteem and your quality of life. Overall, full mouth reconstruction provides several advantages, including:
Natural-looking results to improve your confidence.
Improve your oral functions and health.
Stop jaw, teeth, facial, or gum pain.
Replace missing teeth.
Improve your ability to chew, speak, and smile without any discomfort or embarrassment.
Improve your overall oral and general health.
Schedule Your Consultation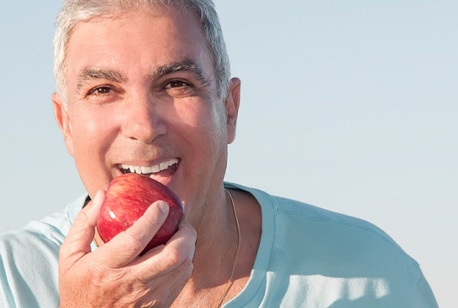 We never judge our patients' damaged smiles. If you're ready to transform your teeth and your self-esteem, we'll maintain your integrity and deliver the compassionate care you need. To schedule a consultation, contact our dental office. Don't be discouraged if your dental problems are complex or severe. We can create a plan to rehabilitate your smile with full mouth reconstruction!
Full Mouth Reconstruction FAQs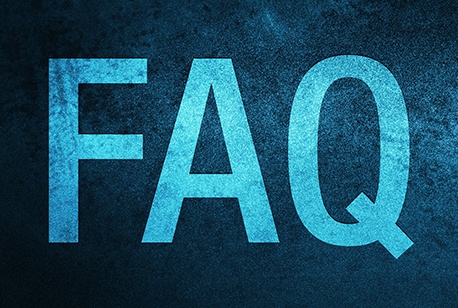 If you're ready to stop living with the challenges of severely damaged or missing teeth, you may be a candidate for full mouth reconstruction in Loveland, but it's a big commitment. It's normal to have several concerns before you're ready to move forward. We will explain everything during your consultation to ensure you know exactly what to expect on the road ahead. In the meantime, here are the answers to the most frequently asked questions.
Do I need full mouth reconstruction?
Full mouth reconstruction is recommended for patients with significant oral health issues, like extensive decay, infections, or missing teeth. However, the only way to know for sure is by scheduling a consultation with your cosmetic dentist in Loveland. They will examine your mouth and learn more about your concerns to create a personalized strategy to improve the health, function, and appearance of your smile.
Does getting full mouth reconstruction hurt?
You don't have to worry about a painful transformation process because your comfort is our top priority. We embrace the latest technologies and techniques for less invasive methods. Your dentist will also use a local numbing agent to block any pain signals before getting started. Although you won't feel anything during your procedure, your mouth may be sore after the effects of any numbing agents dissipate, depending on your treatment. An OTC pain reliever can keep you comfortable. Apply a cold compress to manage any inflammation or bruising. Your dentist will recommend eating softer foods until any discomfort subsides. They may also give you additional aftercare instructions, depending on your treatment.
How long does full mouth reconstruction take?
Every mouth and situation differs, just like fingerprints. As a result, there's no one-size-fits-all treatment to create a healthy, functional smile, so the timeline looks different for everyone. Some procedures can be done in a single appointment, while others may require multiple visits. Your dentist will explain how long you can expect it to take during your initial consultation. You can ensure there aren't any delays in the process by following your dentist's aftercare instructions and maintaining your appointments.
How long does full mouth reconstruction last?
Since every case is unique, the lifespan of your new smile will depend on various factors, like the procedures. We design our treatment plans to provide long-term results. You can get the most from your investment with a solid oral hygiene routine at home. Besides brushing, flossing, and using a mouthrinse, visit your dentist every 6 months for a cleaning and checkup. It's best to eat a nutritious diet that's limited in sugar and live a healthy lifestyle, like not smoking or drinking alcohol excessively. Your dentist will recommend breaking any bad habits that may compromise your smile, like using your teeth in place of scissors or tools. You should also keep inedible objects out of your mouth, like your fingernails or pencils. If you play sports, don't forget to wear an athletic mouthguard.