Dental Services Near Cincinnati, OH
Treatments Designed with Your Family in Mind
From general checkups and cleanings for the youngest member of your family to customized veneers to help rid your smile of its imperfections to complete dental implant transformation for your elderly mom or dad, Gerome and Patrice Family Dentistry offer it all. No smile is too far gone, and no individual is out of reach for high-quality, first-rate dental care. Offering comprehensive services designed to treat, repair, and improve smiles of all ages, our dental team near Cincinnati will be with you or your loved one every step of the way, making sure you are happy with your results and feel confident in your new appearance.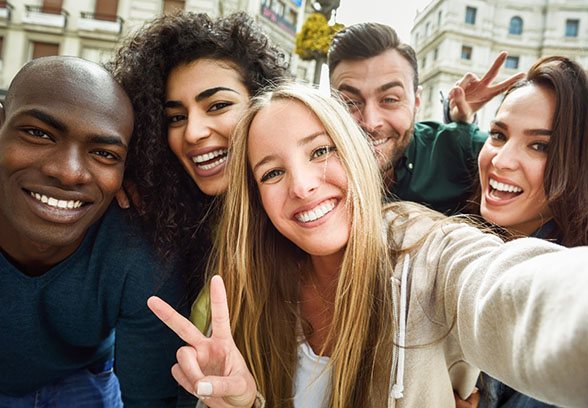 Dental Checkups & Cleanings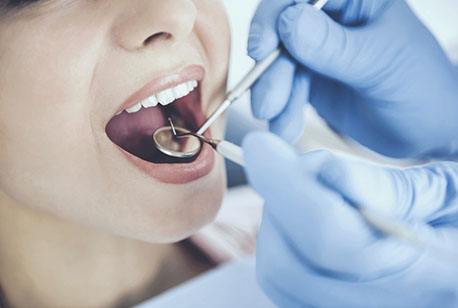 During these six-month visits, our team will complete a thorough checkup of your oral cavity and facial structure, making sure there are no signs of tooth decay, cavities, gum disease, oral cancer, or bite alignment issues. Also, we will perform a professional cleaning that will remove hardened plaque and tartar from your teeth and gums, leaving you with a healthier, more refreshing smile. Should we notice any problems during your appointment, we will discuss your personalized treatment options and answer any questions or concerns you might have about your oral health.
Cosmetic Dentistry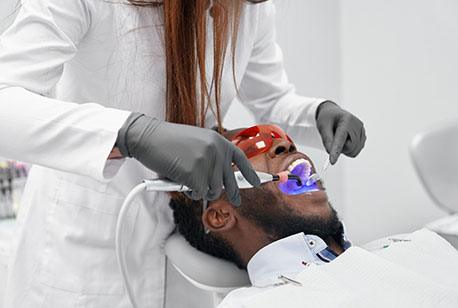 We know your smile means a lot to you. Not only do you want it to feel good, but you also want it to look healthy, beautiful, and contribute to a more youthful appearance. This is why we are pleased to provide cosmetic dentistry solutions that will take your smile from drab to fab. Whether it is veneers, teeth whitening, metal-free dental crowns, or cosmetic dental bonding, we can hide imperfections, blast away stains, and transform your look to give you the smile you've always dreamed of. With our expert professionals, the aesthetics of your smile are in good hands.
Dental Implants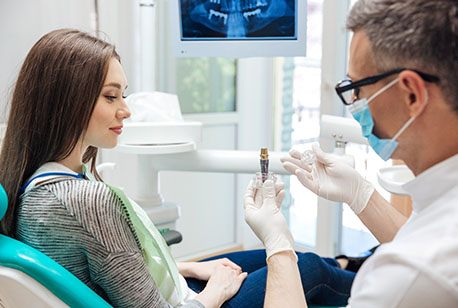 Are you missing one tooth? Maybe you're missing multiple or even an entire arch of teeth? No matter the number, you don't have to rely on traditional tooth replacement options to recapture your smile. If you desire new teeth that remain stable when you eat and speak, can last 30 years or longer with proper care, and minimize the potential for facial collapse by continuing to stimulate your jawbone, you won't find a more superior solution than dental implants. Our team at Gerome and Patrice Family Dentistry works with highly skilled specialists to ensure your new teeth look and feel completely natural.
Orthodontics
If you're ready to straighten your crooked teeth or realign your overbite, don't think that metal braces are the only way to accomplish this task. At our dental office near Cincinnati, we offer Smart Moves Orthodontics, which are clear, plastic aligners that allow for a more discreet, flexible, and faster method of treatment. Instead of relying on a traditional bracket and wire system, you can enjoy a more subtle solution that will shift your teeth in the right direction and have you seeing results much faster than with traditional braces.
Emergency Dentistry
Knocked-out teeth, a severe toothache, a lost crown or filling, or even a soft tissue injury can turn a fun and enjoyable day into one filled with panic and pain. The team at Gerome and Patrice Family Dentistry wants to help you get back on your feet quickly and will be here for you when a crisis occurs. By calling our office and alerting us to your emergency, we can provide valuable assistance in helping you navigate the pain at home while working to schedule an appointment to have you come in for treatment. When faced with a dental injury, you can count on us to be there for you!